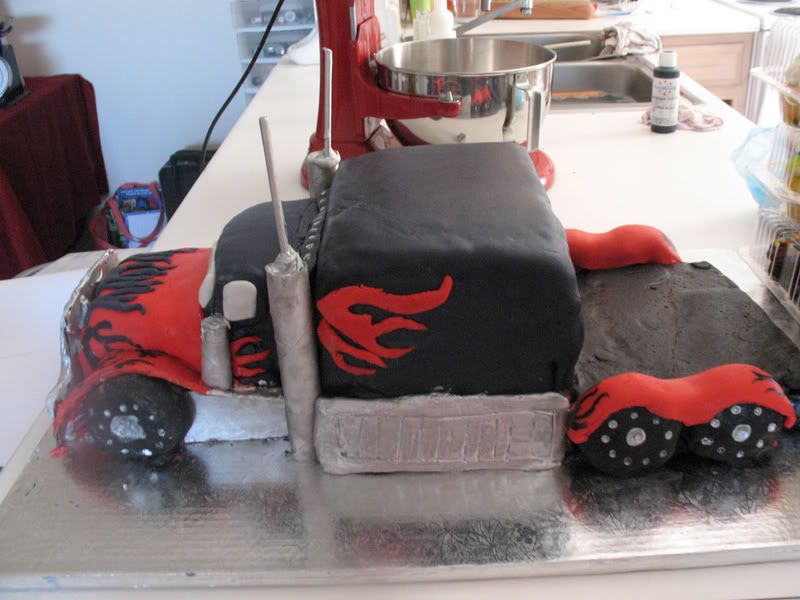 The good news is this cake made it to the party, and the standby cupcakes I purchased did not get touched. It was an absolute hit. The bad news is that my poor little son was having a slight tummy problem (he wasn't sick though), and he didn't want any.

The cake is all Chocolate Fudge. I made four 12 x12 inch cakes and cut off about 1/3 of it to use as scrap and to make the back of the truck.

The rest is a modge podge of 8x8's and 6 x 6 inch cakes. Here is a picture of the first cake I attempted and how I put it together. It's how I did the second cake, too.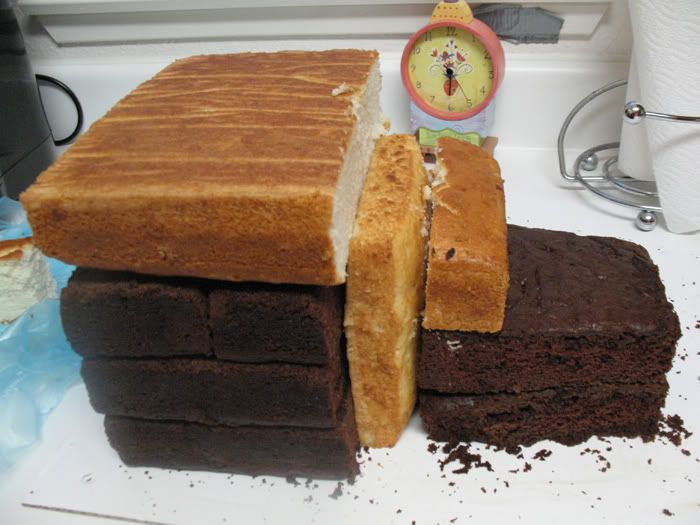 At certain points during this process I thought for sure I was done-for. But I kept on truckin' (haha), and was pleased with the final results. Sure, the fondant isn't smooth, but the overall effect was definitely there. For my first attempt at something of this nature, I can't complain.
The frosting was just regular lemony buttercream infused with cake for sturdiness. Actually a little too much cake, the frosting didn't wan't to stick, and if it did it wanted to fall off and take pieces of cake with it. That contributed greatly to the mushy look of the fondant.
The silver pieces are cardboard and fondant or just cardboard. The black portions are Rice Krispy Treats covered in fondant.

The big part of the truck was eaten, we brought home the leftovers only because Little Man didn't get to have a piece yesterday.
Ask me if I'd try this again and right now I'd probably say no. But in a few weeks the bug will bite me again and I'll be tearing the kitchen up!