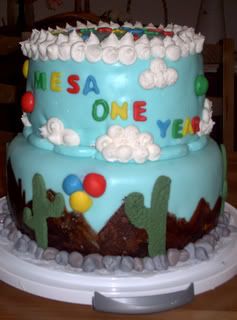 This is my first attempt at a tiered cake. I should have stuck with the one tier! I made a 10 inch and an 8 " cake thinking that would be plenty of space between the layers. WRONG! That's ok, it was a lot of fun. It's not the prettiest thing ever created but I'm sure it tastes fantastic! I used marshmallow fondant this time, and of course "sampled" it. It's still not as good as good old buttercream, but for some reason seems more palatable than the last fondant I made. Of course there is buttercream underneath, so if one really hates fondant, they can just peel it off. I made two different types of fondant, one with whole marshmallows, one with marshmallow fluff. The fluff version was not as cooperative as the whole marshmallow fondant, and you can tell because the top layer is so much more "messy". Bulges and bumps galore! (Sort of like my butt!)

My favorite part of this cake was actually impromptu. I was trying to figure out what to border the bottom with and decided that since it is desert, rocks would be appropriate. I think they are a bit out of place because they are realistic while the rest of the cake is cartoonish! Hey, at least I know how to make edible rocks now! This cake is 100 percent edible. There is nothing on it or in it that cannot be eaten (except for the support *dowels* that keep the top cake from smooshing the bottom). With my previous cakes, any other flower than buttercream flowers were attached with wires, which of course, you would not want to eat (unless you are a guy, then you believe anything can be eaten- as evidenced by a couple of guys who have sampled my cakes!)

So, I bet you are salivating wanting to know what kind of cake it is? The bottom layer is yellow cake with plain buttercream frosting (with lemon extract). It's the recipe I don't care for, but I think a lot of people would like. It almost tastes like the little shortcake cups you can buy for strawberries, which are great for strawberries; but REALLY sweet for cake with buttercream icing. The top layer is chocolate fudge with cookies and cream filling. It tastes like the cake version of an oreo! YUMMMMMMM. Oh yeah, and of course the marshmallow fondant on top. I made it for a combo of my boss's birthday and the year anniversary of our office opening here.
UPDATE: The cake was a hit. I really should have just made a rock cake, they were quite a splash! The fondant kept the cake super moist and yummy. The recipe is a really good chocolate cake anyway, but the fondant kept it that much more fresh. The entire top tier is gone, but the bottom tier hasn't been touched yet. I have decided that this weekend will be a no bake weekend. I love doing it, but this is the fifth week in a row and I don't want to burn myself out! Liz, I am really looking forward to doing the cake for your party, keep me posted on when it will be! I know my cakes are very amateurish, but considering I started from nowhere I think I've done a pretty good job!