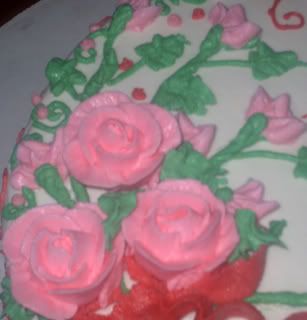 Yes, Cakers Block. If writers can have Writers Block, I certainly can have a block of my own. I have chosen not to show this new cake in it's entirety. It is entirely too ugly. Correction, it's FUGLY. Yes, it is beyond ugly. It looks like Christmas threw up pink.
So before I focus on what is so horrid about this cake, let me entice you with what is GOOD about this cake.
The cake itself is White Almond Sour Cream cake. Something I've made a few times before. It is a "doctored" cake mix, not a full blown scratch recipe like I typically like to use; but good nonetheless. I
went back to my good ole standby buttercream for filling, but of just filling it with plain buttercream, I strained some fresh strawberries into it. OMGOSH, it is soooo good! The outside is still just plain buttercream (with lemon oil), and it's a nice combo.
The good news is I had a much easier time with the buttercream roses and sweet peas than I did yesterday. The bad news is that I apparently have hot hands. It explains why the roses are so "smooth", while the ribbon (the last thing I did), could not stand up on it's own and was just blobby. As I worked, my hands heated up the contents of the piping bag, making melted decorator's buttercream. I also forgot to use regular consistency buttercream for the rest of the piping (scrolls), so on the side of the cake the scrolls didn't stick so well and they look rather horrid.
Here comes my worst offense. I wanted to make the scrolls and ribbon a slightly darker shade of pink, just to offset all that perky pink and green a bit. BIG MISTAKE. I darn well know that once you start adding red, it might still look pink, but the longer it sits, the more red it becomes. Do you think I listened to that smart little voice inside my head telling me to lay off as I gleefully squirted
Super Red
Gel food coloring into my pink frosting? Well of course not! It's such an ugly color combination. Like I said, it looks like Christmas threw up pink. I told my mom to please tell her coworkers that I really do make pretty cakes!
In all fairness. I usually do one cake per weekend. These two cakes I whipped out in a matter of a few hours a piece. So be easy on me, OK?