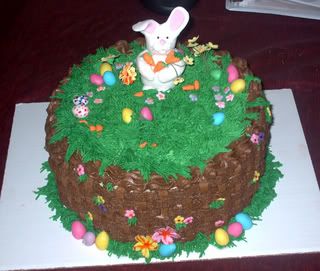 Call me crazy, but I'm rearin' to go again after this cake! I guess I'm truly getting better at this stuff after all, because things ARE getting easier. There is absolutely nothing that went wrong with this cake. Well, at least not the decorating portion of it. I didn't have any "oopsies" to cover up. The flowers are NOT placed strategically to cover up my screw ups. They are there because I thought they would look nice there.

The lady I was making this for only requested something lemony so it's a lemon pound cake. Now here comes the one and only screw up on this cake. Are you ready?

I found a recipe for doctored lemon pound cake that was highly rated on cakecentral.com. Knowing that most box cakes only make an 8" cake if you're lucky, I doubled the recipe. I was making a 9". When I poured the batter it didn't seem like it filled the pan enough but I figured it would rise.

Umm, no. I had one "decent" sized layer, and one incredibly puny layer. After levelling, it was not even an inch high. The other layer was puny too, but not as puny. I really love my scratch recipes, but I didn't really have the time; and they tend to rise better. So I decided I would make this more of a torte style cake with three layers instead of two and bring out my last box mix; which happened to be white cake instead of Lemon Supreme (Duncan Hines if you are curious, it's the only box mix I'll buy most of the time). No problem, I'll just add a boatload of lemon extract to it. Since the other two layers were yellow I decided it would be fun to make the white layer, pink. Hey, I was feeling springy.

That was it, that was THE ONLY THING THAT WENT WRONG! Can I get a WOOT WOOT?!

Since I had already done the pink and yellow thing with the cake, I decided to take it up a notch and really go crazy. I colored one of the layers filling blue, and one layer purple. Or was it green and purple? Or blue and green? Oh who knows, but you get the picture. I'm not sure how it will look once cut, but I hope it looks "springy" instead of like I ran out of one color of frosting and used another.

I thoroughly enjoy basketweave. Yes, it's tedious and can be hard on the hands, but I can do it. Yes, that's why I like it. Because I can do it. Yes, that's reason enough thank-you-very-much. It looks shiny in the pic, and globby, but it's really not. My cheap-o camera is notorious for taking things out of context. I don't think that made sense but I don't care.

This was my first try at "grass". I think it came out pretty good. It was very easy. There is a wonderful little tip, #233 to be exact that is an absolute necessity IMHO. I have some small holed tips and was actually going to attempt grass with one of those. Yeah, then I really would have been certifiable.

As good as this cake went, my apartment is an absolute mess. When you mix three layers of cake, fondant, gumpaste, buttercream, and a very bored 3 year-old, things are, umm, shall we say VERY MESSY? My poor kid, he really gets mesmerized when I'm doing these things and I'm sure he was disappointed to see it walk out the door. So I have decided I'm going to go to the store and get the fixin's for one small easter basket cake that I can surprise him with tomorrow. Let the sugar high begin!

HAPPY EASTER!
UPDATE: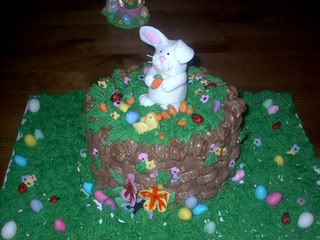 Here is the cake I made for my lil man. He pretty much completely ignored what I was doing because I told him this was for someone else, so I think he'll be tickled pink when it sits next to his Easter basket tomorrow morning! This is a small cake, only 6", the right size for our family...I got a little too busy with all of the decorations and umm, grass, but it was fun. Yes, I know there are lot's o' white spots in the grassy section but you must understand that at that point my hand wanted to fall right off!
Happy Easter............Again!