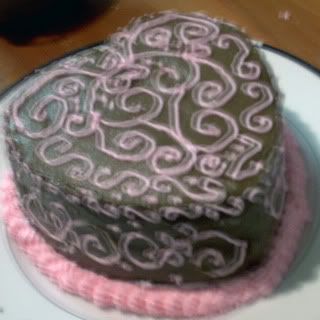 She's aged a little so she is not as beautiful as she once was. Actually, this was just a simple cake I was making for home. I have some leftover Godiva frosting in the freezer so I decided to use part of it tonight.
This cake was honestly not worth the work. I am having a rough go of it with cakes lately, and I think part of it is the heat. I get more clumsy the hotter I am. In a cheaply built apartment, when it's 100 degrees outside, the oven heats the entire place up quickly even with the air conditioning on. I know my latest cakes have not been as stellar as previously, and I think the heat is a huge contributing factor.
I had heard that Blue Bonnett margarine worked wonderfully in frostings so I gave it a whirl. First, I decided to put it in a chocolate fudge cake I made tonight for later in the week (it will be part of a small three tier). Usually, the batter in this recipe almost "whips" up as it is beaten. It goes from a very liquidy texture, to a light and fluffy cream. It didn't do it tonight and the cakes came out more flat and uneven than usual, but still usable. I thought maybe I just screwed up something in the recipe...
Until I tried to make buttercream roses that contained just half a stick of the Blue Bonnett, two sticks of regular butter, and a quarter cup of Crisco. I had identical results with the buttercream as I did with the cake batter. Even though the frosting was thick, it was runny...if that's even possible! Just the small amount of margarine threw the "creamy" factor way off. So I had to scrap the roses and just go hog wild with the number 2 tip on the cake. The table was shaking a lot by a certain little three year old who wishes to remain anonymous, sorta accidentally on-purpose sticking his hands in the frosting poopies. Frosting poopies = frosting that's dropped on the table on it's way from the bowl to the cake. Aren't ya hungry now?
The cake itself is a white cake with some chocolate and raspberry extract in it. It's a variation of the white almond sour cream cake. It is filled with the same chocolate buttercream that covers it, and I must say it tastes much more fabulous than it looks!