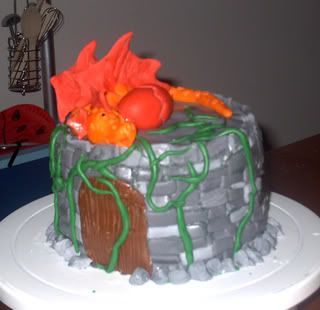 This was a REALLY fun cake to do, up to the point where a pillow was launched at it by a three year old who wishes to remain anonymous. :P It happened right as I was completing the painstaking brickwork that "used" to be pretty even and solid looking. The original intention was not for this to be an old decrepit castle, but it took that turn after the pillow incident. There is also supposed to be another level (smaller cake) on top, but such is life. I really learned about using fondant/gumpaste for modeling purposes and covering a cake in fondant a little bit differently. Instead of using a solid circle of fondant, I applied buttercream and then cut "bricks" to cover the buttercream with. I had originally used plain white buttercream, but it seeped through the bricks and looked awful so I applied another layer of grey which didn't really show until "the incident".
Because the idea for this cake was inspired by Debbie Brown, and was originally supposed to contain some carved cake elements to it, I originally made the recipe for Madeira cake contained in her book (
here
). I suppose if you are inclined to eat dog biscuits that recipe might taste ok to you, but I am not so I threw the whole cooked batch out and used Duncan Hines Yellow cake mix modified to be a pound cake. Normally I'd do it from scratch, but I'm experimenting with mixes now because there are some awsome "doctored" mixes out there. I will still do mostly scratch, but mixes are great for when time is of essence or the supplies are low (like butter, eggs, buttermilk, etc...) I just used regular old buttercream because it can sit out and because of the fondant this cake should be left out of the fridge.
One thing I don't understand. I don't dispute that Debbie Brown is an incredibly talented cake decorator, but to me, a cake must taste just as wonderful as it looks. I can't imagine spending oodles of money on a cake only to find out that it was not very palatable.
P.S. Yes, the end of the dragon's tail didn't quite make it onto him. I was so fed up when I was done I just didn't care!