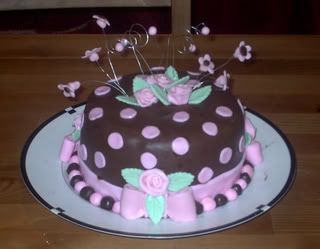 I wanted to try out a new recipe, it's my first foray into "doctored" cakes. I am pretty adamant about doing my cakes from scratch, but this recipe sounded fabulous and I had to try it! The cake itself is white almond sour cream. Mmmm, sounds sooo good huh? Well, it's made from Duncan Hines white cake mix, but has a ton of other ingredients including (surprise) sour cream. It's pretty good but I can still tell it came from a mix. It's so moist it almost seems undercooked but it is not. I also tried out a new buttercream recipe. I really like different buttercreams, but plain ole buttercream is the only one that doesn't require refrigeration once it's on the cake. I did try Swiss Meringue Buttercream a couple of weeks ago because everyone raves about it; but I found it rather plain and was very reminiscent of whipped cream frosting which I am not fond of at all. Oh well, back to my original topic! The frosting and filling on this cake is raspberry cream cheese buttercream and it is FAN-FREAKING-TASTIC! This little experiment ended well
My other little experiment did not. I wanted to make a chocolate fondant covering with raspberry flavoring. I played around with it too much and it ended up becoming too brittle. So I started with a fresh batch and just colored it brown and used raspberry extract in it. It tastes halfway decent. But because I had to get into a new batch that wasn't technically ready for it's showtime (Fondant should sit for 24 hours after being made); There are a lot of tears and small bubbles. That's why there are so many dots! HA!
Overall I am happy with this cake. I had very little idea of what I was going to do when I started on it; so I think this is halfway decent. I did learn to let fondant well enough alone, but since I am giving this to my friend in the morning, I needed it tonight. So I think tomorrow I'll make a batch or two just to have around! I also learned that I am not big on doctored cake mixes, they still taste like cake mixes. Most people love cake mixes, but I want my cakes to taste different. I am just as interested in baking good cakes as I am in decorating good cakes.
P.S. The roses are what are called Ribbon Roses. I see them a lot on whimsical cakes, and since that is one type of cake I really want to learn how to make I thought I'd give the roses a try. :)