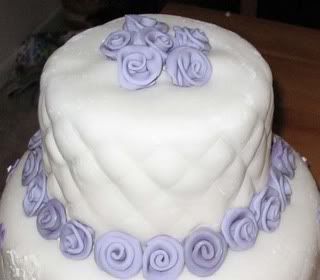 Not much to say about this one, except I'm not proud. Not in the least.
The bottom, unseen tier is strawberry cake with strawberry buttercream filling, and regular buttercream frosting.
The top tier is Chocolate Fudge cake with buttercream filling/frosting.
Gloria did a fabulous job, the heat and my lack of motiviation made this cake a disaster. Once the fondant started tearing I literally just threw stuff on it. While it's still true to my original vision, I had much better plans for it. I've been having a lot of flops lately so I am going to ease off a bit for the summer. I'll still make one on occasion, but me, cake, buttercream and heat don't make such a great combo.